DesktopCalc is an enhanced, easy-to-use and powerful scientific calculator with an expression editor, printing operation, result history list and integrated help. DesktopCalc gives students, teachers, scientists and engineers the power to find values for even the most complex equation set.

DesktopCalc uses Advanced DAL (Dynamic Algebraic Logic) mechanism to perform all its operation with the built-in 38-digit precision math emulator for high precision.

DesktopCalc combines fast "just-one-click" interface with broad set of functions. It was designed as a tool that is convenient for both elementary and scientific calculator. DesktopCalc features include the following:
* Possibility to enter mathematical formulas as with a keyboard as with built-in button-panels.
* Scientific calculations - unlimited expression length
* Syntax highlight of math expression and proper operator precedence
* Parenthesis compatible
* Scientific notation
* Calculation range:
- maximal positive number: 1.797E+308
- minimal positive number: 2.225E-308
* All functions, mathematical and physical constants can also be used in expression
- 40 trigonometric, logarithmic, hyperbolic and algebraic functions
- 50 built-in most common mathematical and physical constants
* Clipboard smart functionality
- Cut, Copy and Paste operations

Keywords: desktopcalc, Windows, enhanced, desktop, scientific calculator, expression, calculator, desktop calculator, algebraic, formula, equation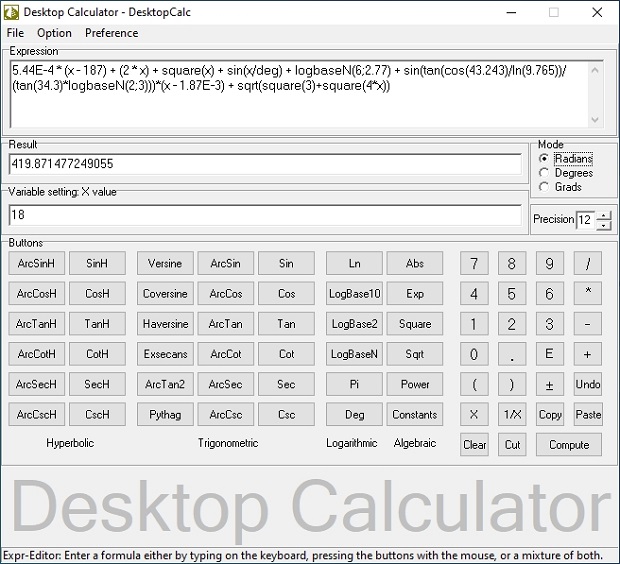 Related programs in Education - Mathematics
WDumpEvt
Windows NT/2000 eventlog management tool: dump, save, view the local/remote log
Mihov ASCII Master
Show ASCII value of any key pressed in decimal or hex!
Cresotech TypeRecorder
Convenient and easy to use keystroke sequence recorder and manager
XSLaunch
XSLaunch is a simple but a most efficient Windows Explorer add-on.
Agent Undercover
Fun and easy tool to cut a holes of any shape and depth in windows on desktop.
Zoner GIF Animator
Superb GIF animator that can create banners
Server Maintenance Portal
Collect hardware and software assets across the network.
Tweak Manager
Take complete control of your Windows system with access to hundreds of tweaks.
sysCOMP
Remotely compare any two systems on your network.
CgiTester
A tool for full testing of CGI scripts without needing an internet connection.