WinTools.net is a suite of tools for increasing operating system performance. WinTools.net cleanly removes unwanted software from disk drives and dead references from the Windows registry. WinTools.net puts you in control of the Windows start up process, memory monitoring and gives you the power to customize desktop and system settings to fit your needs.

WinTools.net features the following tools:

Clean Uninstaller - This tool is used for both correctly removing software and for monitoring changes made to the hard drive, MS Windows registry and system files during program installations.

Scan Files - This tool is used for periodic cleaning of your hard drive from dead references, junk and obsolete files produced by different software. These files and references remain on the hard disk and increase drive access time.

Scan Registry - This tool is used for periodic cleaning of the MS Windows registry from unused applications remained after uninstallation and from invalid references which decrease system speed and system loading time.

Start Up - This is a startup manager. This tool allows you to monitor, add, remove, enable and/or disable individual startup items. You can also adjust applications initialized during the loading process of the operating system.

Tweak UI - This is a set of additional adjustments related to safety, system capacity and user preferences and which are not included into basic components of MS Windows.

Keywords: wintools, tool, windows, utility, registry, utilities, x64, cleaner, startup, optimizer, x86, clean, ram, 64bit, disk, fixer, tweaker, vista, tools, fix, scanreg, mechanic, professional, ultimate, clean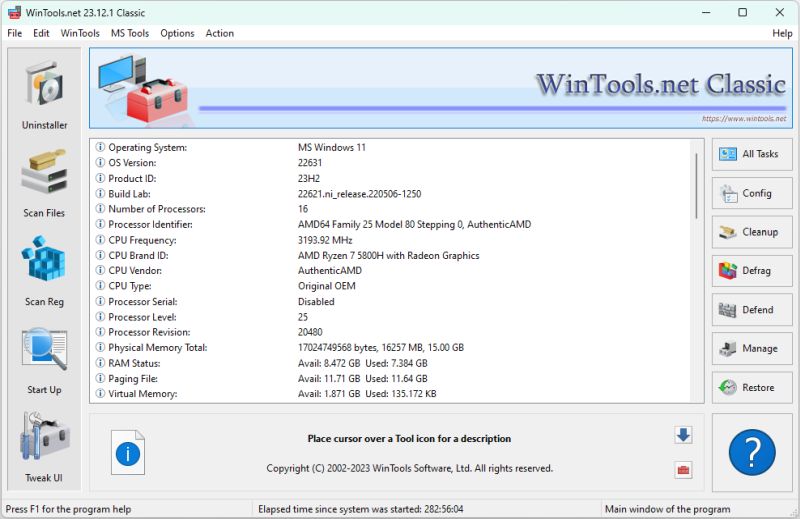 WinTools.net Classic 17.9

Author:

WinTools Software Engineering Other programs by WinTools Software Engineering

Downloads:

420

Size:

2600K

Cost:

$19.99 US

Users Rating:

Feedback:

License:

Shareware [?]

Operating Systems:

Release Status:

update (2017-10-01)

Recent Changes:

version 17.9.1 (October 01, 2017)
* 'Display arrows on icons' algorithm was fixed
* 'Invalid Add/Remove Links' algorithm was fixed
* /n mastake of .lng files was fixed
+ dutch(nederlands).lng was updated
+ spanish.lng was updated

Supported Languages:

English, Arabic, Byelorussian, Chinese, French, German, Italian, Korean, Romanian, Russian, Spanish, Ukrainian

Additional Requirements:

MS Windows
Related programs in System Utilities - System Maintenance
WDumpEvt
Windows NT/2000 eventlog management tool: dump, save, view the local/remote log
Mihov ASCII Master
Show ASCII value of any key pressed in decimal or hex!
Cresotech TypeRecorder
Convenient and easy to use keystroke sequence recorder and manager
XSLaunch
XSLaunch is a simple but a most efficient Windows Explorer add-on.
Agent Undercover
Fun and easy tool to cut a holes of any shape and depth in windows on desktop.
Zoner GIF Animator
Superb GIF animator that can create banners
Mihov Index Maker
A program that creates a HTML file containing links to all files in the folder.
Server Maintenance Portal
Collect hardware and software assets across the network.
ManageEngine Exchange Reporter Plus
Web-based Microsoft Exchange Server Reporting and Email Traffic Tracking Tool.
Mihov DiskFree
Show free disk space, info updated every second.