BriskBard is the new web browser for Windows that simplifies many of the most common tasks in Internet integrating in one program a web browser, an email client, a media player, a news aggregator, a file transfer client, a newsgroups reader, a contact manager, instant messaging, and several web developer tools. Safety, privacy and open standards are three of the main factors in the development of BriskBard. Just to name a few of its features, erasing all the browsing data can be done with two clicks and the message viewer uses a completely new engine to display its contents safely. The user interface was specially designed to be intuitive, easy to use and fast. BriskBard has a new bookmark system to access any website, ftp server or irc server quickly. Bookmark management is easy and allows to export and import bookmarks in several formats. On-screen notifications can be activated to alert the user about new email messages, new newsgroups articles or new feed items periodically. BriskBard can manage unlimited email accounts. It has an advanced attached images viewer, automatic filters and labels. The message editor allows you to change the text characteristics, check the spelling, add signatures automatically, select recipients easily typing part of the name or email address and add files, contacts and images directly from the scanner as attachments. The contact manager is available from the email client, newsgroups reader and the message editor to add, select or edit the information in each contact. BriskBard is available in English and Spanish, and includes a language manager to translate all the text to any other language.

Keywords: web browser, email client, news aggregator, newsreader, usenet client, usenet newsreader, nntp client, newsreader software, newsgroups reader, media player, FTP client, instant messaging, irc, whois, ping, dns, contact manager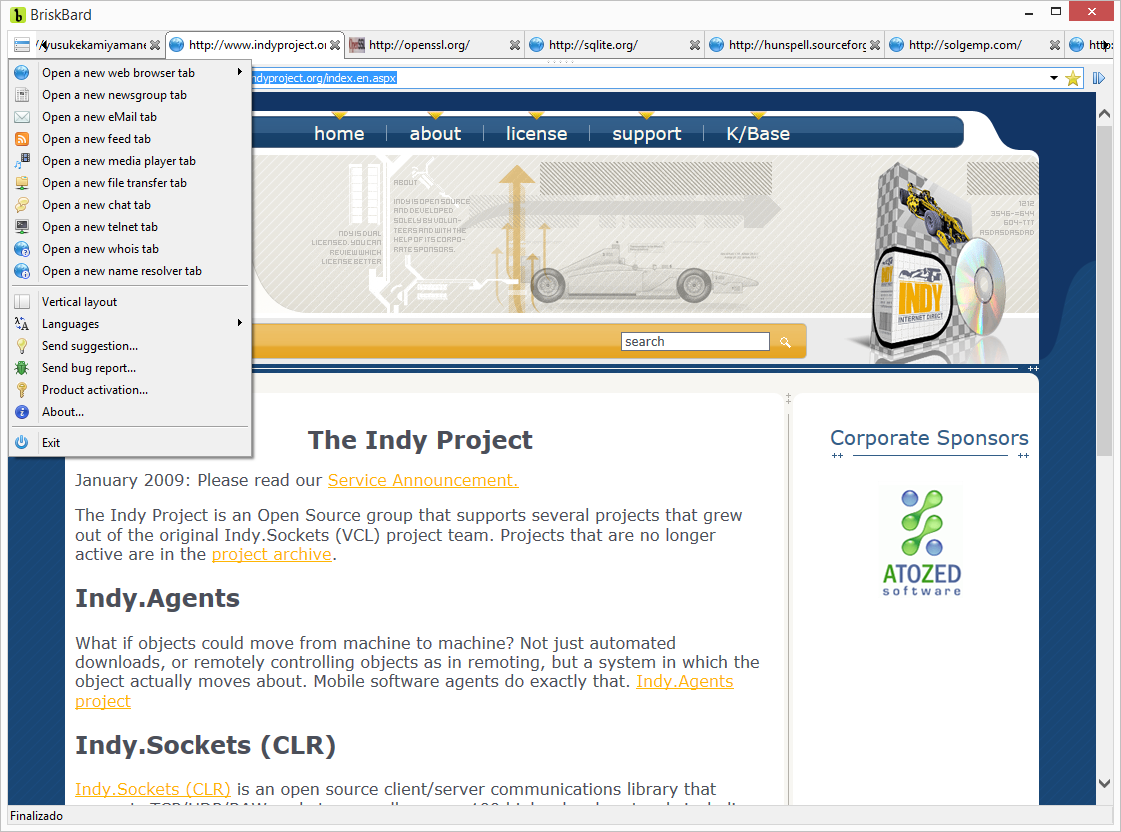 Related programs in Network & Internet - Browsers
Mail Commander Home
Portable full-featured and fast e-mail client with user-friendly interface.
Make Your Own Browser
Make Your Own Browser lets you build a web browser with the name you choose!
Binary Boy
A newsreader with NZB and RAR support. Custom settings for each newsgroup
Picture Patrol XP
Automatically extract pictures from thousands of Usenet newsgroups articles
Browse3D
Browse, load and save multiple web pages simultaneously, eliminate pop-ups
Smart Bro
Smart Bro is a free browser designed carefully to suite the user needs.
Group Mail Manager Premier
Manage messages sent to generic email inboxes such as sales, support
Reach-a-Mail
Free USB based portable email client
MailCOPA Email Client
Multi User and Multiple Machine Email Client
Clyton
An email client with advanced security and spam filtering features.