Power Spy lets you know exactly what people do on a computer while you are away. It secretly logs Facebook, Twitter, keystrokes, chats & IMs, emails, websites visited, photos shared, videos watched, microphone sound, video talk, user names, passwords, applications run, internet searches, documents opened and much more. Power Spy records incoming and outgoing instant messages in Skype, Yahoo Messenger, Windows Live Messenger, ICQ, AIM, etc. It takes screenshots every x seconds like a surveillance camera pointing at the monitored PC. The spy software starts monitoring with system startup then runs silently and invisibly. Only administrator of the software can bring it back with hotkey and manage it. It automatically sends log reports to your specified email or ftp, like every 30 minutes. You can check these reports on another remote PC, tablet or even a smart phone. You can also view logs directly from its control panel on the monitored PC. Power Spy is perfect for catching cheaters, monitoring employees, children and spouse, protecting kids online, collecting evidence and even investigating crimes.

Keywords: power spy, power spy software, spy software, spy, surveillance, surveillance software, monitoring, monitoring software, keylogger, key logger, spying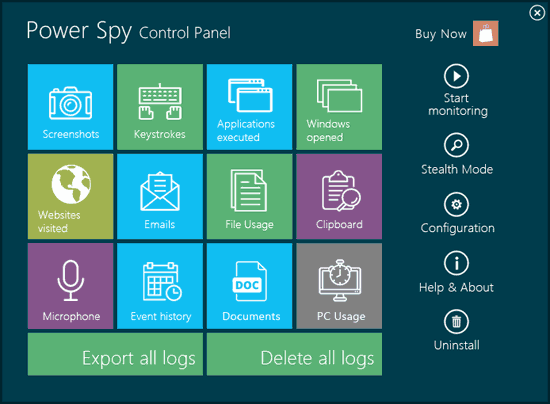 Related programs in Security & Privacy - Covert Surveillance
Free Hide IP
Hide your real IP address to protect your privacy for FREE with Free Hide IP.
All-In-One Spy
All-In-One SPY - stealthy monitoring software
Pyramid Solitaire
Pyramid Solitaire is a challenging free card game with lots of features
Golf Solitaire
Golf Solitaire is an exciting free card game with lots of features
HS MailPerfect
Virus, spam and unwanted email remover before downloading occurs
Zillya! Internet Security
Gives all possible types of Internet security with minimal RAM usage
Panda Gold Protection
Maximum protection with a Premium service for all your devices.
UserMonitor for Classroom or ComputerLab
monitors PC activities in a windows network
Exterminate It!
Stay protected with custom updates, a huge malware database, and smart removal!
Spytector
Spytector is the most undetectable keylogger on the market! Windows 8 Compatible