Exportizer Pro is a database export tool. It allows to export data to database, file, clipboard, or printer. It can open ODBC data sources, files of DB, DBF, MDB, ACCDB, XLS, XLSM, XLSB, GDB, IB, FDB, HTML, UDL, DBC, TXT, CSV types, and databases specified by ADO connection strings. Data can be exported to several file formats like text, CSV, XLS, RTF, XML, HTML, PDF, DBF, SLK, SQL script, and to relational database of any type supported by ADO, BDE, or Interbase.
It is possible to export all or selected tables from an open database at once.
Exportizer Pro can automatically detect the most known image types (JPG, PNG, GIF, BMP, ICO) in BLOB fields and export them, for example, to HTML or PDF.
Many export options ensure full control over output. There is an ability to specify the source-to-target field mappings.
Export operations can be performed either via the program interface or via command line with large number of parameters. You can easily generate needed command line directly from the GUI.
It is possible to copy data to clipboard or print them.
There are several utility functions for data manipulating and bookmarking.

Keywords: Database, export, DBF, CSV, XLS, RTF, XML, HTML, UDL, GDB, ADO, BDE, database tool, db tool, database utility, db utility, database software, bookmarking, command line, clipboard, utility, text export, tables, exporting, DBC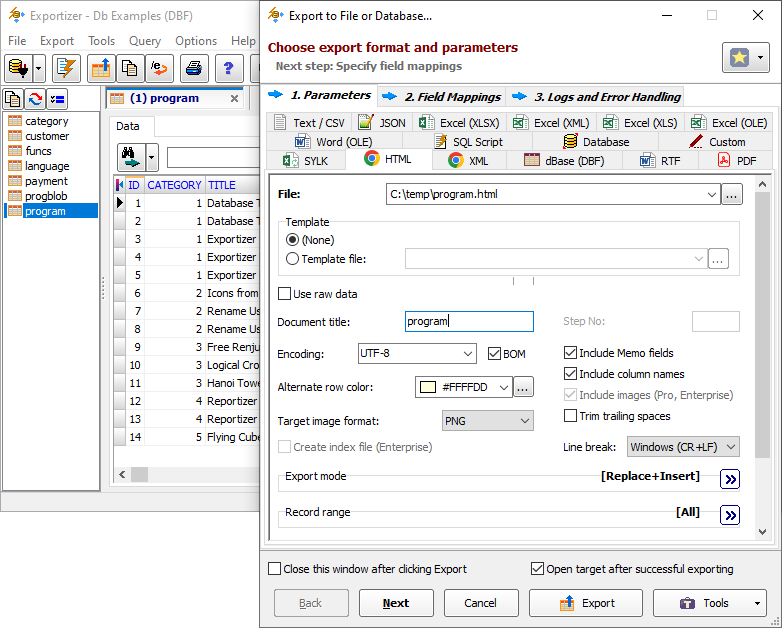 Related programs in Business - Databases & Tools
Easydump for Oracle
EasyDump for Oracle is a GUI interface tool used to Export/Import data objects
Acc Compact
Utility for Microsoft Access database developers and administrators.
DataTron
DataTron is an easy-to-use visual data base
Database Assistant
Manipulate data from a variety of databases including Oracle, SQL Server, et al
Magic Editor
Editor for Source Code, TXT, RTF, XLS files
DbFacePHP
MySQL web interface, PHP application builder and sql reporting tool.
ParseRat File Parser Converter Restructurer
NEVER AGAIN RE-KEY LEGACY DATA: Extract usable data from just about anything.
odbc2csv
odbc2csv ODBC DSN information from the command line to csv
tables2csv
tables2csv ODBC table information from the command line to csv
dsn2csv
dsn2csv allows command line access to the local host ODBC table information